Det är officiellt. Årets studentstad, en utmärkelse som delas ut av SFS sedan 1999, är vårt vackra Kalmar. – Vi tittar framförallt på studenternas bostadssituation,
Read more
Det är officiellt. Årets studentstad, en utmärkelse som delas ut av SFS sedan 1999, är vårt vackra Kalmar. – Vi tittar framförallt på studenternas bostadssituation, men även möjligheterna till rekreation och grönområden och hur väl
Read more
Vi vill hälsa tack & bock, för detta härliga år. Vi önskar er god hälsa och att ni ljuvliga dagar får! /Linnékåren
Read more
Nu har anmälan för vårterminens stora event öppnat. Ni hittar mer info och länk till anmälningsformulär här!
Read more
Bli universitetets nästa superhjälte! Vi söker en person som brinner för sina medstudenter och vill att utbildning ska kännas rättvis och trygg. Till medlemsmötet i december ska det röstas fram en ny utbildningsbevakare i Kalmar.
Read more
Linnékåren söker extrapersonal till Kalmar! Arbetsuppgifterna består bland annat av att bemanna Linnékårens expedition där du tar emot böcker som lämnas in till Campusbokhandeln, svarar på studenters frågor och är kårens ansikte utåt. Vid behov
Read more
Ishockey ses bäst live! Vill du få få kårmedlemsrabatt på Växjö Lakers hemmamatcher? Hör av dig till oss på sociala medier eller skicka ett mejl till info@linnek.se.
Read more
Vi älskar att jobba med studenter för studenter. För det är ju tillsammans vi skapar förändring och möjligheter! Just nu arbetar vi tillsammans med Växjöstudenterna Vanja, Linnéa, Theo och Daniel – för att ta fram
Read more
Sälj din använda kurslitteratur till Campusbokhandeln, Sveriges smartaste kretslopp för studentlitteratur – genom Linnékåren! Du lämnar enkelt in dina böcker till vårt kontor, under våra öppettider, så fraktar vi det vidare. Och så fort böckerna är sålda
Read more
I samarbete med Växjö kommun erbjuder Linnékåren dig ett välkomstpaket när du folkbokför dig i Växjö! Välkomstpaketet innehåller busskort och presentkort. Så här gör du: Folkbokför dig inom Växjö kommun genom att göra en flyttanmälan
Read more
Från och med höstterminen 2022 finns Linnékårens medlemskort i Hitract. Du kan dock inte använda Hitract som Student-ID för nationella rabatter, exempelvis på resor. Du kan skaffa Student-ID oberoende av eventuellt kårmedlemskap genom att ansöka
Read more
Linnékåren har precis publicerat nya webbsidor som uteslutande vänder sig till doktorander. Trots att de är en viktig studentgrupp ser sig många forskarstuderande inte som studenter och vet därför inte riktigt vilka rättigheter och skyldigheter
Read more
Linnékåren kan stolt säga att vi ingått i ett samarbete med Hitract, den sociala passionsplattformen, med målet att föra kåren, föreningar och studenter i Växjö och Kalmar närmare varandra. Via Hitract så får du möjligheten
Read more
Nu lanserar vi ett nytt samarbete där du som medlem i Linnékåren får 200 kr rabatt när du tecknar ett årskort hos Olympen träningscenter. Beroende på vilket kort du väljer så får du tillgång till
Read more
Linnékårens främsta uppgift är att arbeta med utbildningsfrågor, något som tenderar att falla i skymundan. Därför har vi gjort en liten sammanställning av några av de viktigaste frågorna vi har arbetat med under det här
Read more
Nu lanserar vi vår nya jobbportal! Här hittar du annonser inlagda av företag, myndigheter och föreningar. Hitta ett jobb över sommaren, ett extrajobb vid sidan av studierna eller ditt drömjobb efter examen. Du kan även
Read more
This year's dedication grant winner is Ludvig Karlsson, who during his years here at LNU has contributed to a vibrant student life both through his commitment as a student representative and his time active member within both CnAs and the Linnaeus Union.
Read more
Nu när sommaren är här är det återigen dags att dela ut Linnékårens mest ärofyllda och prestigefyllda pris, nämligen det för Årets lärare! Detta priset delas ut till en lärare på respektive campus, och baseras
Read more
There was a drastic increase in the turnout in the election for the fiscal year 22/23. 880 of the members of Linnekåren voted, which is equivalent to 21%. It should be compared to last year's 16% and only 9% five years ago. 
Read more
Dagarna innan CSN anländer är ekonomin inte alltid den bästa. Därför kommer vi på kåren att bjuda kårmedlemmar på frukost tisdag den 24 maj kl 9-10 i vårt kontor i Stella. Kom och träffa Linnékåren
Read more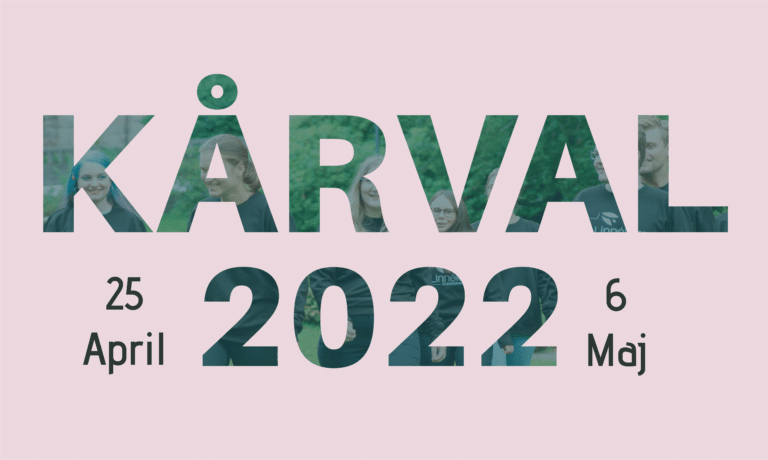 Mellan den 25 april – 6 maj kan alla som är medlemmar i kåren gå till våra digitala valurnor och rösta på dem de tycker ska företräda dem under nästa verksamhetsår. Du som röstar har
Read more
Linnékåren Växjö söker just nu studenter som kan extrajobba inom organisationen med start höstterminen 22. Det största behovet kommer vara under introduktionsveckan och runt höstterminens början, sedan vid behov under årets gång. Vi söker just
Read more
Solen börjar lysa längre, vädret blir varmare och brassestolarna börjar titta fram. Alla tre är tecken på vårens mest efterlängtade högtid – VALBORG! Två års väntan är över! Äntligen kommer vi kunna fira in våren
Read more
Du som är medlem i kåren får nu premiumversionen av Avidnote helt gratis! (Värt 2000 kr/år) Avidnote (avidnote.com) är en onlinebaserad app som möjliggör för studenter & forskare att föra och organisera all deras textmaterial
Read more
Linnékåren erbjuder Kalmarstudenter att fira Valborg och uppleva Växjö studentföreningsliv. Bussen går från Kalmar kl 11.30 lördag den 30 april. Återresa kl 03.30, efter att studentpuben Sivans har stängt. Valborgsfirandet hålls utomhus på den öppna
Read more
I samarbete med studentföreningen Studenter för Rättvis Handel Växjö anordnar vi en loppis för er studenter! Det hela började som en idé från en av våra medlemmar och tog sedan form efter att Växjö kommun
Read more
Linnékåren är medveten om att det finns en oro i studentkollektivet till följd av den ryska invasionen av Ukraina. Vi för dialog med Studenthälsan för att bemöta den oron. Vi har även kontakt med relevanta
Read more
At Tuesday's members' meeting, Isak Sörmander was appointed as the new study social responsible in Kalmar. Isak has studied the first year of the Biology program at Linnaeus University in Kalmar, he has also served as vice president of CNaS during this year.
Read more
Lördag den 5 mars kl 19.30 åker vi från Kalmar till Växjö. Häng med partybussen och festa på Sivans i Växjö. Kom ihåg att du måste vara kårmedlem för att komma in! Ta gärna på
Read more
Vill du stanna i Kalmar i sommar? På Kalmar kommun finns 1000 meningsfulla sommarjobb. Vi erbjuder speedintervjuer på mässan den 9:e mars! Kom och träffa oss i Gropen i hus Radix mellan klockan 11.30 och
Read more
På grund av pandemin blev vi tvungna att skjuta upp vår välkomstmässa denna terminen. Därför kommer det nu istället att bli en vårmässa som går av stapeln den 5 april. Våra mässor är mycket populära
Read more
Linnékåren släpper under fredagen flera animerade filmer för att visa bredden av sin verksamhet. I de korta filmerna ges exempel på hur studenter kan engagera sig i och utanför studierna, och hur studentkåren kan hjälpa
Read more
Vi har en vakant post som studiesocialt ansvarig i Kalmar. Detta är posten för sig som brinner för studentlivet i Kalmar och vill vara drivande i att utveckla det! Som studiesocialt ansvarig fokuserar du främst
Read more
Med ökad smittspridning i samhället så har nya råd kommit vilket påverkar högskoleutbildning. Vid en presskonferens mellan utbildningsministern och UKÄ angavs det att studier på plats fortsatt är planen men att distansstudier kan nyttjas för
Read more
Vi har tillsammans med Hedvig tagit fram ett grymt erbjudande till alla er studenter! Just nu får du nämligen 299 kr rabatt på medlemsavgiften om du skaffar Hedvig – Sveriges populäraste hemförsäkring bland studenter! Med
Read more
På vårt medlemsmöte förra veckan gjordes ett fyllnadsval till styrelsen. Vi kan nu hälsa vår nya styrelseledamot Andreas Johansson välkommen. Andreas är 26 år och kommer från Hällevik, Blekinge. Han beskriver sig själv som väldigt
Read more
Den 26 november annordnar vi en bussresa till Växjö och Slottsstallarnas studentpub. Följ med och upplev studentlivet när det är som bäst! Temat på stallarna är ovvekväll, så släng på dig din ovve, se till
Read more
Under ordinarie student- och doktorandombud Kinka Barvestads föräldraledighet ersätts hon av Micha Hallberg. Micha kommer ursprungligen från Stockholm, har utbildat sig till jurist i Lund och har en gedigen erfarenhet av kårarbete från sin kår
Read more
Du har väl inte missat att medlemmar i Linnékåren kan köpa stå-och sittplatsbiljetter på Växjö Lakers hemmamatcher till rabatterat pris! Sittplats från 145 kr (Ord. pris från 265 kr)Ståplats 100 kr (Ord. pris från 175
Read more
Vårt senaste tillskott till styrelsen heter Sebastian Gustafsson-Persson och kommer att ha rollen som deltidsledamot i Kalmar. Han är 26 år gammal, studerar till ämneslärare i biologi och kemi andra året i Kalmar. Hans mål
Read more
Efter helgens introduktionsaktiviteter i Växjö har vi tyvärr fått besked om konstaterad covidsmitta. Vi följer Linnéuniversitetets och myndigheternas beslutade åtgärder för att minimera fortsatt smittspridning. Därför har Linnékåren i samråd med universitetet beslutat att ställa
Read more
Lär känna din stad och spara pengar med Linnéhäftet! Du som är eller blir medlem i Linnékåren belönas med vårt Linnéhäfte. Häftet är fyllt med rabatter och erbjudanden från olika företag i Växjö- och Kalmarområdet
Read more
Introveckan i Kalmar närmar sig med stormsteg och nu kan du som ny student köpa vårt intropaket med allt inkluderat. Du får: Kårmedlemskap Biljetter till alla 4 kårkvällar Biljett till Kalmar Garden Party ink sittning
Read more
Vi önskar våra medlemmar, studenter, anställda på LNU och alla våra samarbetspartners en riktig glad midsommar. Vi ses i höst! Från och med v.26 till och med v. 31 kommer många av oss ha semester
Read more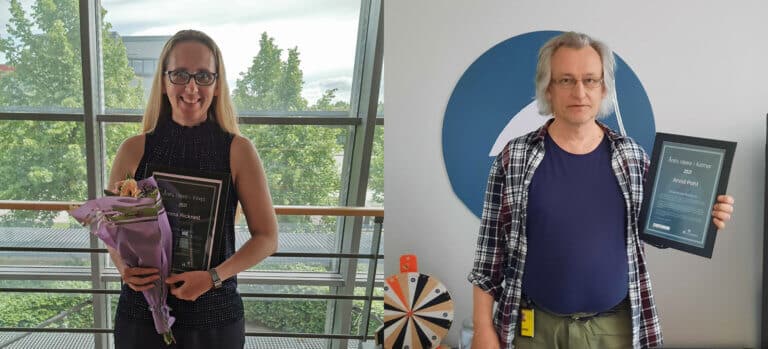 Nu när sommaren närmar sig med stora steg och terminen gått mot sitt slut, har Linnékårens riktigt ärofyllda undersökning och utdelning skett, Årets lärare! Detta priset delas ut till en lärare på respektive campus, och
Read more
Under de första månaderna 2021 samlade Linnékåren in åsikter från studenter på Linnéuniversitetet för formandet av studentinlagor till fakulteterna och Nämnden för lärarutbildningen (NLU). Inlagorna fokuserade på frågor kring utbildningskvalitet, lärares kunskaper och deras kommunikation med mera. Utbildningsdialogerna genomförs en gång per termin för
Read more
För första gången på ett och ett halvt år planerar vi nu för att kunna genomföra vanliga välkomstmässor i Växjö och Kalmar den 7e respektive 14e oktober. Vi följer de scenarion som FHM tillsammans med
Read more
I mars kunde medlemmar och övriga studenter besvara enkäten Studentåsikter. Frågorna rörde studentengagemang och vad studenter känner till om Linnékåren. Nu vill vi dela med oss av resultatet. Enkäten hade 82 svarande, de flesta i Kalmar eller Växjö. Merparten hade pluggat vid Lnu i två eller tre terminer, och de flesta uppgav att
Read more
På grund av corona-utveckligen i Kronobergs län med skärpta restriktioner väljer vi att tillfälligt pausa vår verksamhet på torsdagar med ute-expedition och "Promenera med kåren". Detta gäller till en början denna veckan (20/5) och nästa
Read more
Som den första studentkåren i Sverige genomförde Linnékåren 2019 en utbildning i syfte att bli HBTQ-diplomerade. Sedan dess har vi fått mycket positiv respons från såväl studenter som andra. Men! Arbetet är inte slut. Under
Read more
För andra året i rad blev det ett helt digitalt kårval där allt från ansökningar och intervjuer till kampanjande och själva röstningen skedde på distans. Trots det noterades det näst högsta valdeltagandet någonsin. 371 av
Read more
Mellan den 28 april – 5 maj kan alla som är medlemmar i kåren gå till valurnorna (digitalt såklart) och rösta på dem de tycker ska företräda dem under nästa verksamhetsår. Du som röstar har
Read more
Nu kan du hämta ut vårt rabatthäfte Linnéhäftet på infocenter i Hus Stella. Linnéhäftet är fyllt med rabatter på restauranger, butiker, bilverkstäder, hotell, bio, frisör, gym m.m. Helt gratis för sig som är medlem i
Read more
Linnékåren söker vikarierande ekonomi- och löneansvarig under ordinarie ekonoms föräldraledighet. Dina arbetsuppgifter är bland andra: – ansvara för kundreskontra (fakturering, bokföring av inbetalningar) – ansvara för leverantörsreskontra (bokföring och utbetalning av fakturor) – budgetarbete –
Read more
Då vi inte fått några ansökningar till utbildningsbevakare i Kalmar så förlänger vi sökperioden för denna post en fram t.o.m. torsdag 1 april. Rollen som utbildningsbevakare innebär att vara den personen som studenterna vänder sig
Read more
I samband med att vi öppnar upp igen för ute-expen i Växjö lanserar vi även en ytterligare nyhet: Promenera med Kåren! Vi samlas utanför Linnékårens kontor på Tufvan klockan 12.00 och börjar promenera vid 12.15
Read more
Nu är det endast ett par dagar kvar av ansökningsperioden och det är hög tid att skriva färdigt CV:t och skicka iväg din ansökan. Inte bestämt dig för vilken styrelsepost du vill söka ännu? Här
Read more
Från och med torsdag 18/3 kommer du återigen kunna besöka expeditionen i Växjö om du exempelvis behöver hämta ut ett välkomstpaket eller ett rabatthäfte eller om du behöver hjälp att bli medlem. Du kan självklart
Read more
Vi lanserar en enkät för att få veta mer om studentengagemang och vad studenter (vid Linnéuniversitetet) känner till om oss. Vi saknar att träffa er studenter och att inte kunna erbjuda schyssta event och på
Read more
Linnékåren är nu öppen för ansökningar och nomineringar. Är du vår nya ordförande, studiesocialt ansvariga, utbildningsbevakare eller deltidare? Läs mer om de olika posterna och vad det innebär att arbeta som förtroendevald här. Du kan
Read more
Under hösten har vi tagit fram en helt ny broschyr som presenterar hela vår verksamhet för nya och gamla studenter. Broschyren kommer att finnas tillgänglig på vår expedition och på universitetet inom kort. Men du
Read more
Som den enda studentkåren vid Linnéuniversitetet jobbar vi för alla studenters rättigheter. Speciellt nu under Corona så arbetar vi för fullt för att framföra era åsikter vidare. Universitetets verksamhet ligger just nu 90–95% digitalt där
Read more
Tidigare har vi gett tips på hur du bäst lyckas med studier på distans, och vi hoppas att de kommer väl till pass. Nu fokuserar vi på din hälsa, som ju påverkas av att samhället
Read more
Linnékåren älskar sprit! Vi fyller den till och med i småflaskor och ger bort den! Du kan hämta din flaska på UB eller vid Infocenter (Kalmar fr.o.m. vecka 49). Perfekt att ha med sig på
Read more
Folkhälsomyndigheten inför nu skärpta lokala allmänna råd för Region Kronoberg och Region Kalmar. Det gör att vi på Linnékåren kommer att göra följande ändringar i vår verksamhet: Vårt medlemskaffe kommer att pausas tillsvidare med start
Read more
Hej Linus Svensson! Du är nytt HSSO… Vad är det och vem är du? Jag är 25 år, läser master i sociologi i Växjö och är deltidsledamot i Linnékåren. HSSO är huvudstuderandeskyddsombud och betyder att
Read more
På medlemsmötet i förra veckan röstades det in en ny Studiesocialt Ansvarig efter att positionen stått vakant sedan i augusti. Läs nedan hennes presentation: "Hallå! Frida Ingemansson heter jag och har nu tagit över rollen som
Read more
Effektivitet kan beskrivas som mängden meningsfullt arbete i förhållande till nedlagd tid. Här är några tips på hur du ska få ut så mycket som möjligt av dina (möjligen oplanerade) distansstudier. Sätt mål och
Read more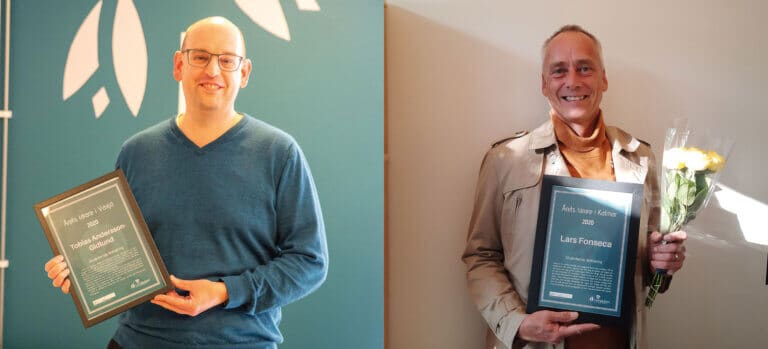 Nu är årets lärare utsedda på respektive ort. Vinnarna är Tobias Andersson-Gidlund, Växjö och Lars Fonseca, Kalmar. Nedan följer studenternas motiveringar: Tobias Andersson-Gidlund Tobias har uppvisat väldigt god pedagogisk förmåga, ständigt visat ett stort
Read more
I onsdags avgjordes för första gången Linnécupen. En tävling mellan föreningarna i Kalmar där grupperna bl.a. skulle genomföra olika stationer. Vid en av dessa fick de nya studenterna testa sina faktakunskaper i vår Fake News
Read more
Du som blir medlem i Linnékåren under höstterminen kommer att belönas med vårt sprillans nya Linnéhäfte. Häftet är fyllt med rabatter och erbjudanden från olika företag i Växjö- och Kalmarområdet och omfattar caféer, restauranger, gym,
Read more
För tredje terminen i rad har vi ett samarbete med försäkringsbolaget Hedvig där du som har eller skaffar hemförsäkring mellan 8 juli – 3 oktober får ditt kårmedlemskap för endast 1 kr! Hedvig är en hemförsäkring
Read more
Med vårt nya namn behövde vi så klart en ny logotyp och vad kunde vara bättre än att anlita våra fantastiska medlemmar för designen. Sagt och gjort så utformade vi en tävling där vinnaren belönades
Read more
För över ett år sedan satt vi på kontoret och tänkte att det kanske kunde vara på tiden att byta namn. Att vem som helst som pluggar är en Linnéstudent och att få verkligen fattade
Read more