Now that summer is here, it's time to hand out the Linnaeus Union's most glorious and prestigious award, the Teacher of the Year! This prize is awarded to a teacher on each campus, and is based on your nominations and motivations.
Teacher of the year is a prime example of student influence where the students get a chance to pay tribute to those who deserve it a little extra. The nomination give great joy to the teachers who were nominated and won!
You can find previous winners further down the page.
The nominations are now closed, check out our social medias for this years winner!
Below you can see the pervious winners of the teacher of the year by Linnaeus union 
Mats Trondman
"He is nice, good at teaching, responsive and discusses well with his students. Every thought and question is met with enthusiasm and acknowledged by Mats, and all his lectures feel rewarding. "
"Mats possesses boundless amounts of knowledge about his subject and life in general. A reliable, friendly man with a genuine interest in his students and teaching. The whole class wishes he could teach all our courses. We are glad that he did not retire before we had the chance to be lectured by him. "
Cecilia Holmqvist
"Very pedagogical. Wants you to succeed and shows it by always being there if you need help or do not understand something. "
"She spends so much time with her students and does everything to explain physics in an understandable way. She is not afraid to change previous teachers' approaches to make it easier for students. She's the best teacher I've had. "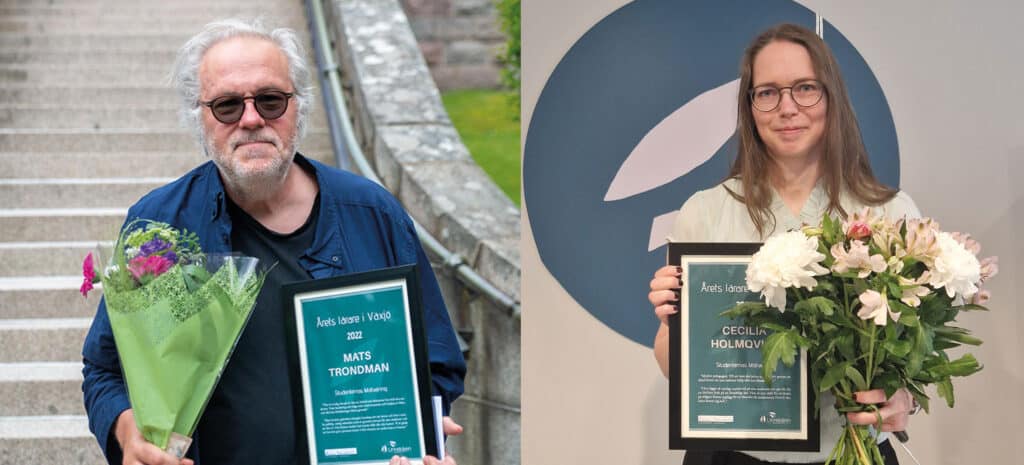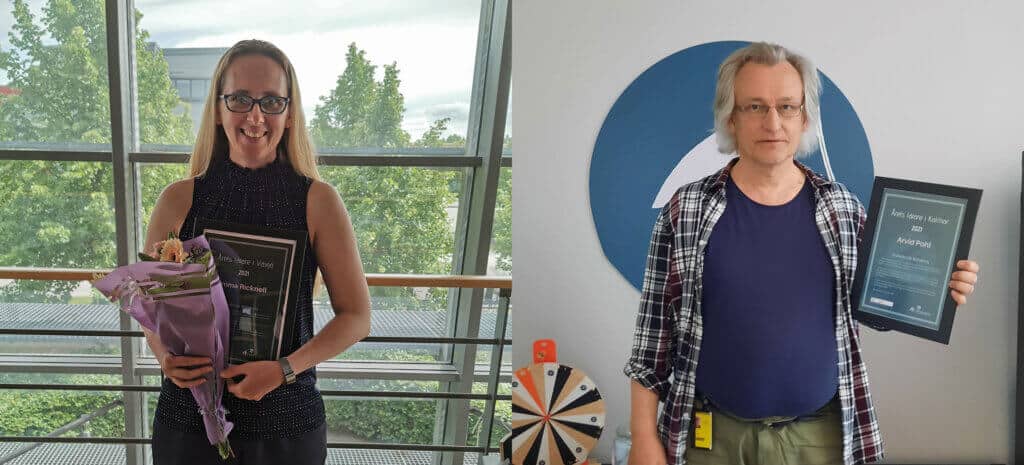 Emma Ricknell
"She is a fantastic educator and the teacher who kept a high class and incredible clarity in all the courses I had her in."
""A teacher who enables the student to reach its best possible potential, and more should follow her path, regarding all aspects such as lectures, seminars and teaching as a whole."
"Simply an outstanding teacher. World class!"
Arvid Pohl
"With an engaging and knowledgeable way of teaching Astronomical science, he has aroused my interest in Astronomy so much that I acquired my own telescope to be able to look at stars and planets."
He possesses a great knowledge of a complex subject at the same time as he explains something difficult in a pedagogical and comprehensible way. Arvid is always equally committed to all lectures and gives the little extra that makes the lessons extremely fun and interesting. In addition to a passionate interest which is shown in the lecture, he is always happy, clear in his reasoning, helpful and careful that all students should have a chance to understand the subject.
Tobias Andersson-Gidlund
Tobias has shown very good pedagogical ability, constantly shown great commitment and put an enormous amount of time and energy into teaching. He also constantly tries to improve the program and its quality. Furthermore, Tobias has also explained how the content of the courses affects and how it is relevant in working life. No other teacher has done the same.
Tobbe has been a neat gem during my three years! He has taken on a great deal of responsibility both as a program manager, but also as a teacher in many programs. When he has to explain things and take examples, he always does so much better than expected. For example, in a programming course, he explained the relationship between classes using well-developed Star Wars examples.
Tobbe is truly an incredible teacher for everyone who studies at FTK and its IT program!
Lars Fonseca
Lasse is a very skilled and committed teacher who really wants the students to succeed. I have not learned so much in any other course, as I did during his. He was really good at teaching and at the same time challenged us in the classroom so that we would develop. In addition, he was always helpful with questions and was quick to answer. Despite the distance conversion, he handled the course incredibly well.
He has been incredibly understanding when something has gone wrong and made the course roll well even though the distance learning created problems.
Lasse is skilled, very pedagogical, an absolutely fantastic teacher simply!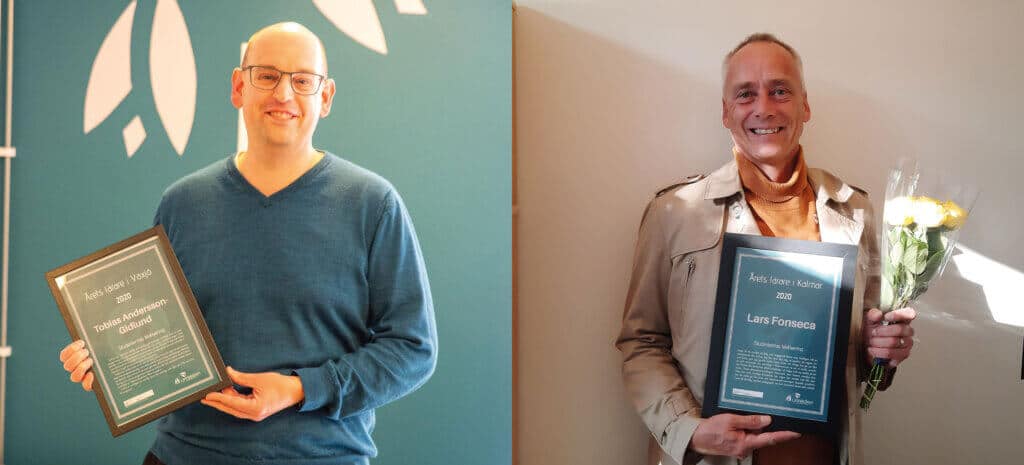 Ludwig Gelot
"Genom sin kreativitet och öppenhet har den här läraren fått sina studenter att känna sig både hörda och sedda. Med hjälp av undervisningen har studenterna fått en större förståelse för hur ett teoretiskt ämne kan användas i praktiken, och de har fått möjlighet att utvecklas utifrån sina egna förutsättningar".
Per Bruhn
Staffan Andersson
Staffan är en god pedagog som kan skapa intresse och engagemang för sitt ämne. Genom hans skickliga undervisningsteknik, oavsett föreläsningsspråk, inspirerar han sina studenter att upptäcka det egna intresset för mer kunskap.
Jörgen Bruhn 
Jørgen är en handledare som kännetecknas av sin tillgänglighet, lyhördhet och förmågan att inspirera sina doktorander till att nå högre höjder. Jørgen har också en holistisk syn på utbildningsprocessen och skapar därmed goda förutsättningar för sina forskarstudenters framtid, långt bortom disputationen. Hans engagemang för doktoranders arbetsmiljö är pricken över I:et som gör det extra trevligt för Linnéstudenterna att rekommendera Jørgen Bruhn till utmärkelsen för framstående handledare.
Below you can see all the the teachers that have been previously nominated as teacher of the year
Nominations as teacher of the year
Ambrose Dodoo
Anders Olsson
Anders Persson
Anette Lundin
Anna Thyberg
Annette Årheim
Aris Alissandrakis
Christopher Allen
Elin Funck
Erik Wångmar
Francis Palma
Fredrik Ahlgren
Fredrik Hanell
Hans Allmer
Hans Frisk
Heiko Fritz
Helena Gunnarsson
Henrik Hultman
Hyonjoo Kim Karlsson
Inger Axelsson
Jasmina Beharic
Jens Gardesten
Joel Martinsson
Johan Vaide
Jonas Nordqvist
Jörgen Jonasson
Lars Tomsmark
Lena Wennersten
Linda Hiltunen
Marianna Strzelecka
Marie Eriksson
Martin Kvist
Mats Glemne
Maziar Sahamkhadam
Morgan Rydbrink
Nam Aghaee
Niklas Kilsgård
Ola Flygt
Paula Wahlgren
Per Dannefjord
Per Nilsson
Peter Hultgren
Peter Skoglund
Pär Vasko
Rickard Ulmestig
Rune Körnefors
Sara Ahlryd
Sheila Feldmanis
Stephan Reinhold
Susanne Sandberg
Thomas Näsström
Tobias Hedin
Tommy Håkansson
Viktorija Kalonaityte
Welf Löwe
Åsa Devine