There are rights and responsibilities you are expected to know, follow and use. When writing your thesis it is especially important to be aware of your sources, how you reference them and the rules about cheating and plagiarism. Discuss them with your teacher or contact us if you have questions or need advise and support.
If you need help with academic writing we also suggest that you contact the library's Academic Support Centre that offers qualified support.
Reported disciplinary cases:
2023: 115 (2023-09-19)
2022: 98
2021: 183
2020: 114
2019: 105
2018: 65
2017: 48
A student who harasses another student or staff member may have to face the Disciplinary Board on charges of harassment.
Even a student can report another student for cheating/harassment..
Attempting to cheat during examination can lead to disciplinary measures being taken. An invigilator, teacher, examiner or similar is always required to file a report if they suspect that something is awry. If an invigilator suspects that you have tried to cheat at a written exam you will be informed about why it is suspected and that it will be reported. You are still allowed to finish the exam. The invigilator will then notify the course co-ordinator and file a report.
If you are suspected of cheating at an exam or other assignment and staff finds enough reasons to report you, the matter will be forwarded to the university´s Disciplinary Board. It will be handled as quickly as possible so that you don't have to worry about it longer than necessary. All matters are handled under rule of law as to protect your personal integrity. You will be informed that there is cause for suspicion and get a copy of the report that has been filed against you, as well as information about what will happen next. You will also get an opportunity to submit a written statement to give your perspectives on the matter. Your case will never be discussed with people not involved in it.
Once a report has been filed to the Disciplinary Board, the vice-chancellor and the legally qualified member of the board will decide to either:
Leave the matter dismissed without further actions
Issue a warning to the student
Forward the matter to the Disciplinary Board for decision
The Disciplinary Board consists of the vice-chancellor, a legally qualified member, a teacher's representative and two student representatives. You and the staff member who reported you will be invited to attend the board meeting, and even though it is highly recommended to attend, attendance is not mandatory. The board will handle the matter regardless of whether you are there or not.
Both the reporting staff member and the student will be able to explain themselves at the meeting, and the board will likely ask a few follow-up questions. When both parties have been heard they will be asked to leave the room while the board discuss the issue and reach a decision.
The student is informed of the decision immediately after it is reached, and will carry one of three consequences:
To leave the matter without further consequence
You get a warning.
You will be suspended from your studies for a period decided by the severity of the offence ( at most six months but usually 4-8 weeks).
You will not be allowed to attend any lectures, labs, seminars or other forms of scheduled sessions during the suspension.
Your contact with teaching staff will be restricted.
You will not be allowed to take or re-take any exams during the suspension.
You will not be allowed to register for or start new courses during the suspension.
You will not receive any money from CSN during the suspension.
Your student user account will be temporarily closed to precent you from accessing services to which you have to log in (e-mail, MyMoodle, public computers, network services, databases etc.)
You will have no access to the Academic Support Centre (Studieverkstaden).
You might not be able to start or continue your placement, internship or exchange semester during the suspension.
You might not have the necessary credits or prerequisite courses to take your next course.
The suspension might prevent you from continuing your studies the following semester.
You risk losing your student apartment if you don't take enough courses/credits.
You might lose scholarships or grants.
You might be forced to take a year off or get your degree later than planned.
Tycker du att David ser ut att ha varit delaktig i grupparbetet nedan?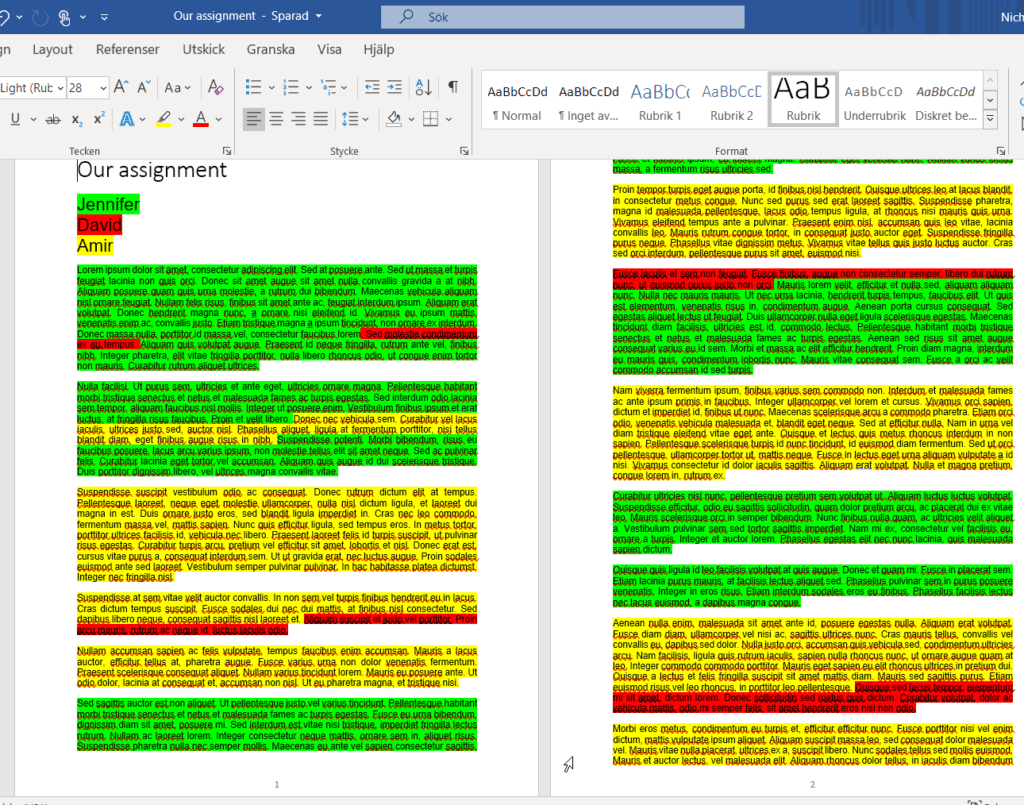 We have all been there, in a group where everybody doesn't participate or equally participate. But did you know that it´s not allowed to turn in a paper signed with your name unless you have actually written it? This is attempt to decieve and could lead to the student getting suspended.
Do you recognize yourself in the mobile conversation below? Is this cheating? 
Asking a friend for help on a home exam, or perhaps being the one who gets the question, many people probably recognize themselves in. But what did the instruction look like for your examination? Was it an individual task? How is the information requested here then handled? Will the student copy the text and put it in their own submission or is it used to get help with where to find the answer? Asking for the answer to a question leaves some thoughts in our opinion and it is important for you as a student to know that this can end up in the Disciplinary Committee. If the answer is copied and then included in the next student's home exam that is submitted before you submit yours, how does the teacher view the similarities in your submissions?
"I only copy a small paragraph to the text. One small thing will not be noticed. No reference in the text? Oh well, one time does nothing in the whole assignment .. "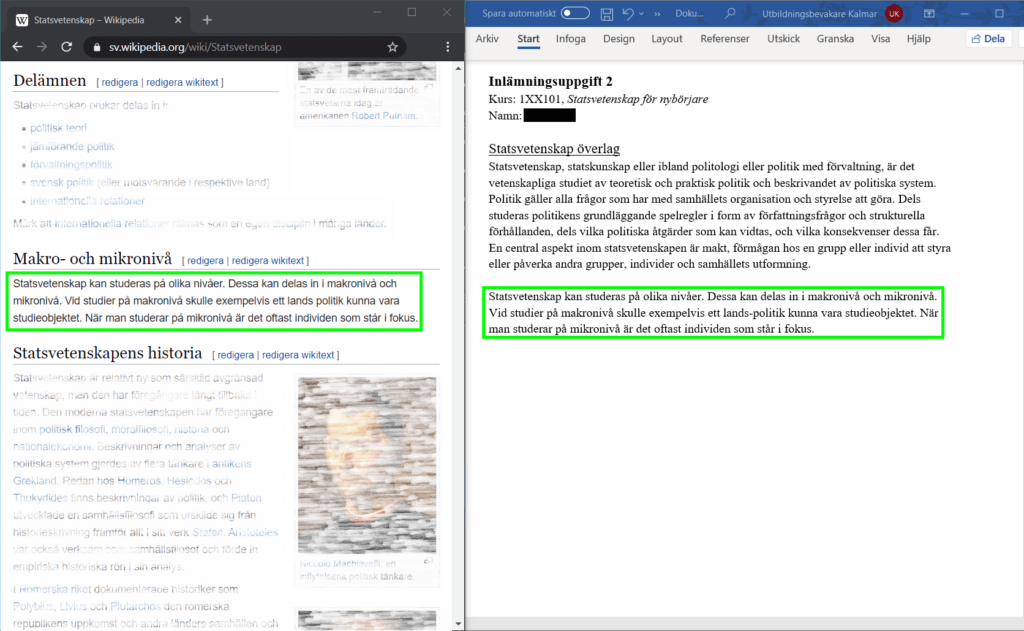 When it becomes stressful with the submission, it is not uncommon for a small piece, directly copied, to slip into a work in the hope that it will not be visible among all pages. But is it worth not being able to graduate just because you did not write a reference?